Back in the early days of the Internet, taking the DIY approach to website design wasn't the easiest thing in the world to do. More often than not, it meant downloading a clunky, cumbersome piece of software known as a What You See is What You Get (WYSIWYG) editor, loading up some garish looking background and using fairly primitive tools to create a website that would often look anything but professional.
The only other alternative was often to learn HTML code, open up Notepad, and hand-code the entire site from scratch.
Fortunately for us as users -and the web as a whole- those days are far, far behind us. With modern online website builders, creating a well-designed, professional looking website is possible with very little technical know-how, all thanks to the tools and templates provided by some of the best website builders like Wix, Weebly and Squarespace. You can compare the number of templates that each website builder has by using comparison sites, click here for more details.
There's a good few reasons why these platforms have become so popular among DIY website builders in the last couple of years. Some people love them for fact that a simple drag-and-drop interface allows us to build websites by doing little more than moving a mouse and slotting our content into place. For others, it's the low costs involved -especially when compared to the expense of paying a professional- that holds the biggest appeal.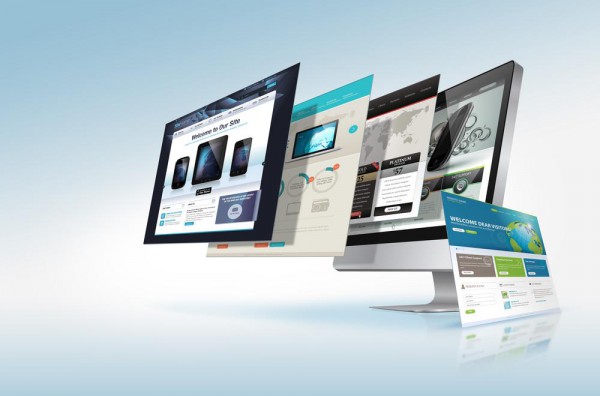 Yet if there's one thing that stands head and shoulders above the rest as the real reason why so many people are turning to building their sites online, it's those templates.
Designed by professionals and free to use with any plan, free website templates have done much to rid the world of those garish backgrounds, conflicting colour schemes and reams of website copy splashed haphazardly onto the page in Comic Sans.
Where to find the best templates for your site
With that in mind, it's little wonder that you're currently researching the best website builder to create your new site, scouring the web in search of the one tool that provides the best quality templates for your new site.
Need a hand with that? Here's our pick on which website builders provide the most impressive themes for your new site.
Squarespace
Squarespace is a premium website builder with plans starting from around $8 a month. Whilst that may not sound all that great if you were on the look out for a freebie, we do have a good reason for including it in this list:
The platform provides some of the most stunning templates we've seen for those in the creative industries. If you're a musician, a photographer, graphic designer, or even a writer, Squarespace is bound to have a theme you and your visitors will love.
For everyone else, read on:
Wix
As synonymous with the world of DIY website building as say, GoDaddy are with hosted websites, Wix has risen to prominence on the back of a large array of gorgeously designed templates.
They might not have quite as many templates as some of their competitors, but in this case, quality really does triumph over quantity, and you'll find a great selection of expertly designed themes for any kind of site, from a simple business brochure to an all-encompassing online store.
Websitebuilder.com
If, on the other hand, quantity really does matter to you, then we don't think you can go far from with Websitebuilder.com, which boasts more templates than any other website building platform that we know about.
Create your site here, and you'll have over 10,000 templates to choose from. The quality does vary from site to site, but all are at least of a good standard, and if you're the sort of person who prefers to have plenty of choice, we'd recommend giving Websitebuilder.com a look.