Although wordpress started as a small blogging system, it has now become a powerful cms because but administrating your blog can be quite difficult sometimes. Administration screens « wordpress codex, Posts – make some content
WP Stats – Download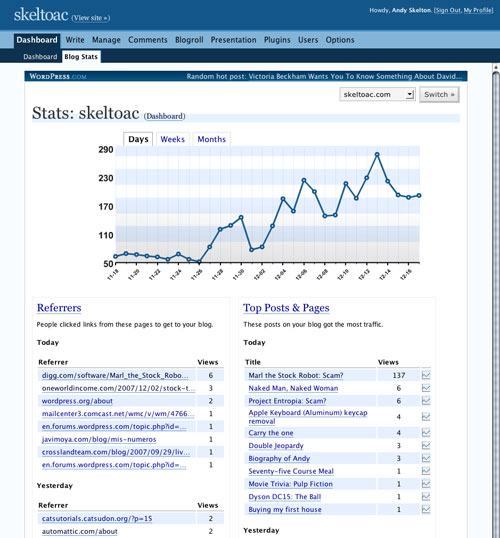 Once it's running it'll begin collecting information about your pageviews, which posts and pages are the most popular, where your traffic is coming from, and what people click on when they leave. It'll also add a link to your dashboard which allows you to see all your stats on a single page. Less is more.
StatPress – Download



Once the plugin StatPress has been activated it immediately starts to collect statistics information. Using StatPress you could spy your visitors while they are surfing your blog or check which are the preferred pages, posts and categories. In the Dashboard menu you will find the StatPress page where you could look up the statistics (overview or detailed). StatPress also includes a widget one can possibly add to a sidebar
Wassup – Download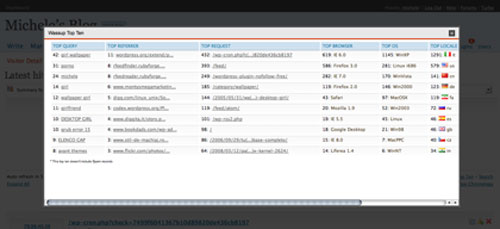 WassUp is a new WordPress plugin to track your visitors in real time. It has a very readable and fancy admin console to keep tracks of your blog's users visits. It has a "current visitors online" view and a more detailed "visitors details" view where you can know almost everything your users are doing on your blog, it's very useful for SEO or statistics maniacs. Now it comes with a new "Spy" view in Ajax like the Digg Spy. The aim of WassUp is the knowledge of what your visitors do when they surf your blog, it is not intended to show grouped statistics for periods like visitors per day, pageviews per months and so on (there are many others tools to better gain that, like Google Analytics). With WassUp you'll get a cronology of your blog's visits with a lot of details for each single user session.
Google Analyticator – Download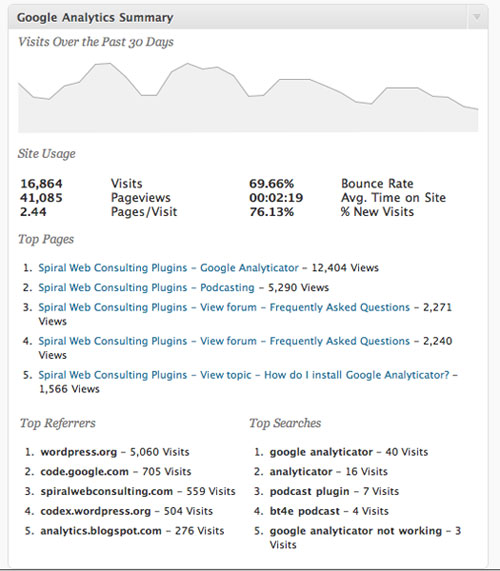 Google Analyticator easily adds Google Analytics tracking support to a WordPress-powered blog. Google Analyticator also comes with an easily customizable widget that can be used to display specific information that is gathered by Google Analytics using the Google Analytics API. It supports all of the tracking mechanisms that Google Analytics supports such as external link tracking, download tracking, tracking without counting administrative users, and any other advanced tracking the user wishes to add. Google Analyticator works with a majority of themes as long as these themes provide the proper plugin hooks.
Plugin Manager – Download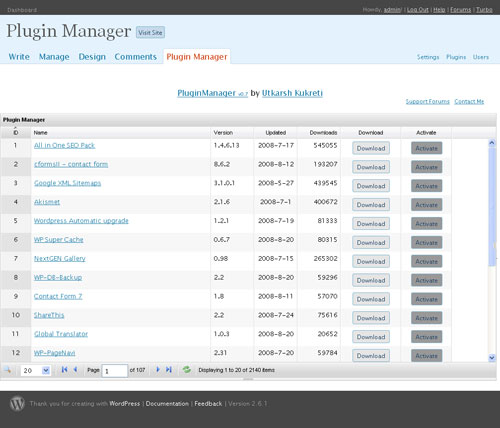 Plugin Manager lets you to view, download and install plugins from wordpress.org from an AJAX'ed interface, instead of manually downloading, extracting and uploading each plugin.
MyFTP WordPress Plugin – Download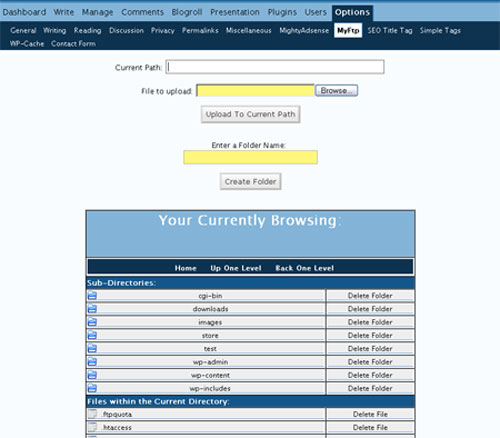 My FTP WordPress Plugin: Manage files on your server from within WordPress. WordPress administrators no longer need to rely on using a stand alone FTP client to edit, delete, upload and create files and folders. My FTP is a file management Plugin for WordPress that enables a blog administrator to (much like an FTP client) navigate folders and files on the server where their WordPress installation is hosted. The administrator can then edit, delete or upload files on the fly from within the WordPress administration panel. It is also possible to create new folders and upload complete directory structures.
Verve Meta Boxes – Download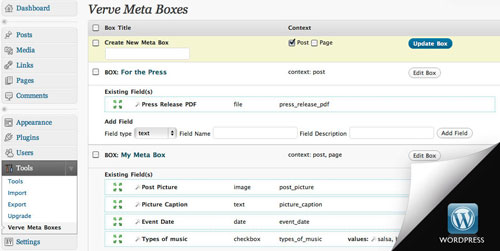 Verve Meta Boxes is a robust custom fields plugin with an intuitive, polished interface that allows for creation of text, textarea, image, file, date, time, datetime, select, radio, and checkbox custom fields for posts and/or pages.
Ozh' Admin Drop Down Menu – Download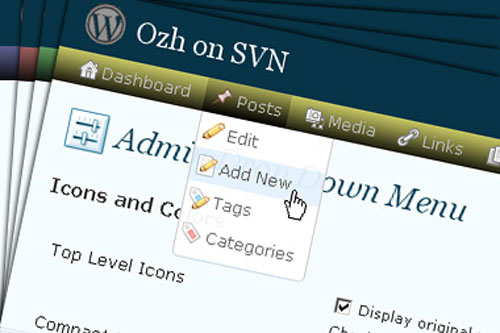 The lazy and the productive will love it : all admin links available in a neat horizontal CSS driven drop down menu. No need to click on "Manage" then "Pages" to edit pages, go to any admin page from any admin page.
WP DB Backup – Download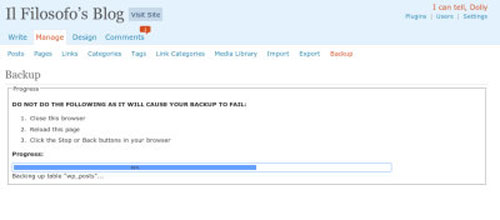 WP-DB-Backup allows you easily to backup your core WordPress database tables. You may also backup other tables in the same database.
Simple Tags – Download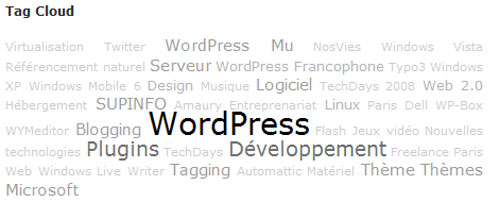 Simple Tags is the successor of Simple Tagging Plugin This is THE perfect tool to manage perfeclty your WP tags. It was written with this philosophy : best performances, more secured and brings a lot of new functions
WP-Cache 2.0 – Download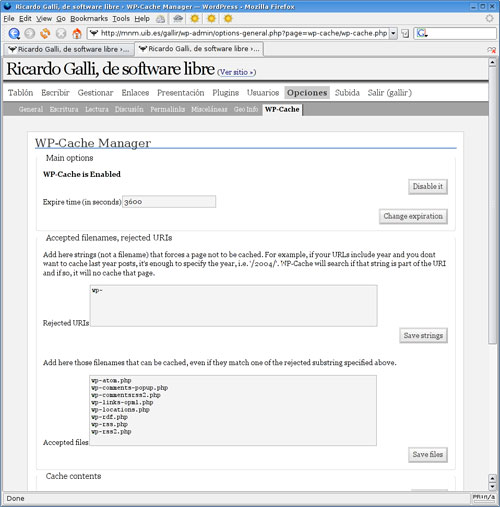 WP-Cache is an extremely efficient WordPress page caching system to make your site much faster and responsive. It works by caching Worpress pages and storing them in a static file for serving future requests directly from the file rather than loading and compiling the whole PHP code and then building the page from the database. WP-Cache allows to serve hundred of times more pages per second, and to reduce the response time from several tenths of seconds to less than a millisecond.
Fluency Admin 2.2 – Download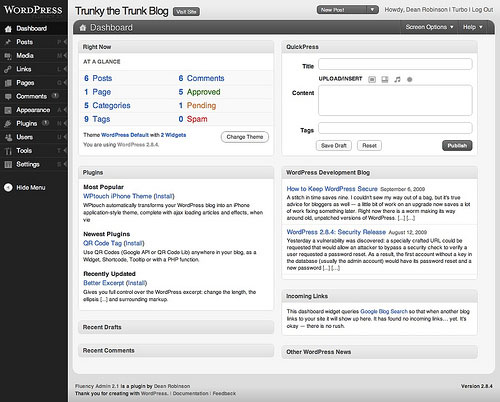 Fluency Admin give the WordPress admin interface a boost, with a new style and some cool features.
Features include:
Hover menus
Switch bettwen full menu view and icon-only view
Hot keys for menu/submenu access
Support for both Grey and Classic/Blue color schemes
Turn on/off Fluency login styles
Display your own custom logo on WP Login page
New in Fluency 2.2:
Customisable menu width (for users with wiiiide menu items)
Disable menu fixed positioning (for users with loooong menus)
Option to hide icons from menu when in expanded mode
Tested with a few more plugins for compatibility
Bug fixes and updates to support WordPress 2.9
WPhone – Download


Looking to manage your WordPress install via your phone? Then the award winning WPhone plugin is exactly what you need. It creates an option while logging in to replace the default admin interface with one designed for your phone (see screenshots).
It contains two versions of the mobile admin interface:
Rich: designed for the iPhone / iPod Touch and other phones supporting full Javascript and CSS featuring fancy AJAX and sliding menus
Lite: a lightweight, simple version designed for all other phone types (no Javascript or anything else required)