Being a photographer these days is not only trendy, but also profitable. Creating visual stories is what the art of photography all about. Unique vision and technical skills is what makes a true photo professional. Based on one's own perception of reality, the art of photography comes with an underlying narrative. The process of sharing a visual story becomes even more inspiring in digital age culture thanks to internet. To draw more people in, a photographer absolutely needs an online project for a career portfolio.
There's no better online platform than WordPress to serve as a basis for a professional looking portfolio. The only thing separating you from your success is a lack of a top-notch template for your project. That's when Photography WordPress Templates come in extremely handy. No need to wander the internet  in search of these, since we have hand-picked 14 top photography WordPress themes here!
Every single item in this collection of WordPress templates comes packed with a plethora of features, geared for a photography-centered site. You'll discover that these themes are responsive, simple to customize, have plenty of built-in tools like messaging and admin panel, free 24/7 tech support etc.!
Addison – Creative Photographer Portfolio WordPress Theme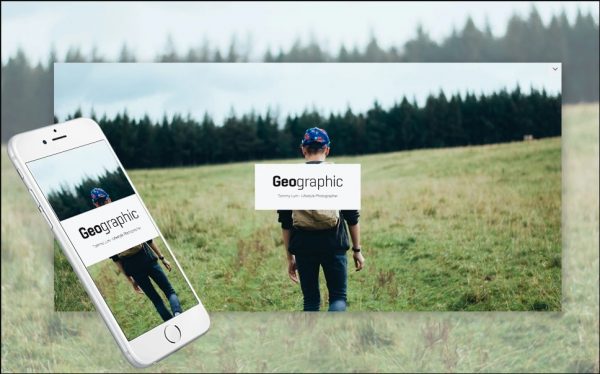 Addison is a laconic WordPress theme with lots of great features. It is capable of impressing with great design and rich functionality; that's why we put it on top of our selection of WordPress photography themes. Among the features it has are: social media integration, main photo feed, multiple layout options, including a 3-column homepage layout. Addison WordPress theme has a 100% responsive design, ensuring that your photo blog or portal renders the same perfect on all electronic devices in all web browsers. Besides, it comes packed with a Live Customizer to make the process of template alteration easier. Cherry Sidebars add more to the template's functionality. It is also SEO friendly, which will ensure a serious marketing boost and high search engine positions.
GeoPhoto – Responsive  Portfolio WordPress Theme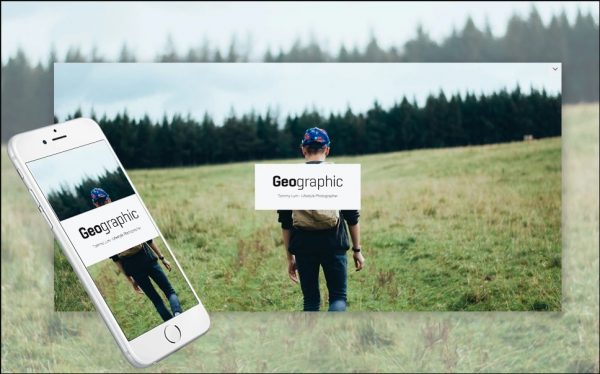 GeoPhoto is a versatile WordPress theme for photographers. It can be used for a photo or travel blog by people who love exploring the world, and make memories of the places they've seen.  Really, this theme has everything you may need – from places to position HQ photos to an attractive landing page. GeoPhoto has other great benefits like SEO-friendliness, fully responsive design, and user-friendliness. Also, it offers free 24/7 technical support provided by the certified assistance specialists. GeoPhoto WordPress theme allows you to build photo albums in flow and grid layout variations. Moreover, the theme has retina-ready design, which ensures that your HD photos will look stunning on all compatible gadgets. If you need an eye-catching WordPress theme for a photo portfolio or simply a blogging medium,  search no more – GeoPhoto has everything you are looking for.
LFA WordPress Theme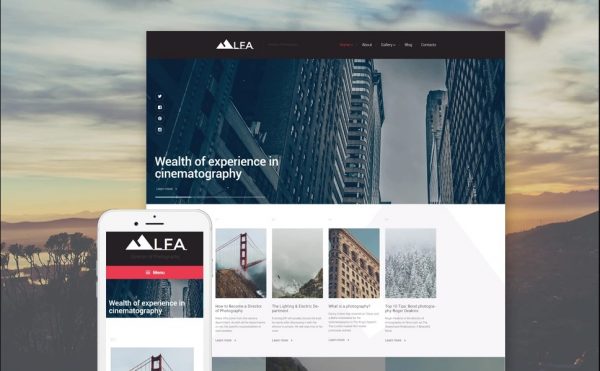 LFA is a diversified WordPress theme with a user-friendly navigation. It has a MegaMenu facilitating better category  / subcategory organization. This particular WordPress theme can be used by photographers and videographers looking to take their work to the new level. A page-wide slider and a masonry gallery serve as a means for displaying the high-definition images. The left side of the screen nests the links to social networks that can be easily accessed via a quick mouse hover. In case you need to make your website's typography more varied, look through the library of Google Fonts offering standard and custom fonts for any occasion. All it takes is to test-drive this theme by hitting the 'live demo' . Don't pass this one by on our list of top photography WordPress templates!
Simona S WordPress Theme


Simona S is one of the most laconic, neat, stylish, and user-friendly WordPress photography website themes in our selection. Geared to put top-notch performance above all other things, it ensures fast loading without hindering the visual components. Being fully responsive, it allows users to access the website from different electronic devices with different screen sizes and resolutions. At the same time, your online project looks the same perfect on mobile phones, tablets and desktops. Owing to the use of valid semantic coding, your website is capable of achieving higher rankings in SERP's, which works for your marketing strategy. Pay attention to Simona S, if you need a simple, yet high-performance WordPress theme!
Monstroid2 – Multipurpose WordPress Theme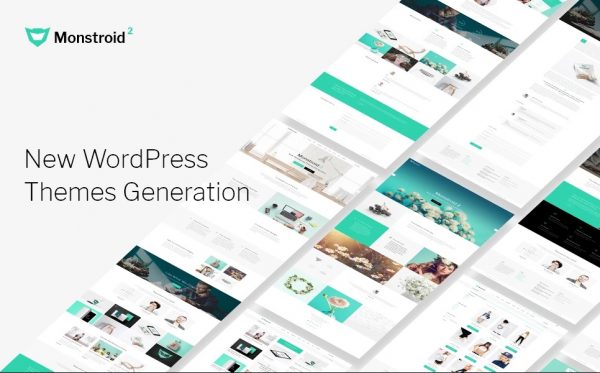 Monstroid2 is a juggernaut WordPress theme that will amaze you with its flexibility and rich functionality.  Since it's extremely versatile, it caters to online personalities and bloggers. Also, it can be used for business and corporate websites, news and media online portals, eCommerce projects, freelancers, etc. Monstroid2 is supplied with a multitude of functionality, this professional WordPress theme has everything you may need to ensure any kinds of business operations on the web are carried out smoothly. There's a handful of useful instruments like widgets, plugins, child themes, data migration tools, a skin switching wizard etc. All of it provides endless customization possibilities that serve to the clients' convenience. Just hit the 'live demo' and enjoy the test-drive of this gorgeous WordPress theme.
Houston WordPress Theme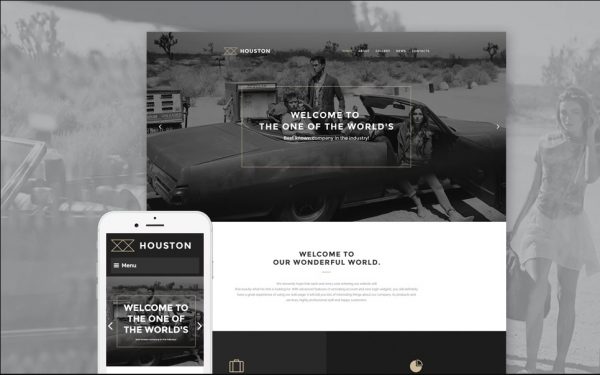 Houston is a top-notch WordPress theme perfect for online bloggers who'd like a vintage design for their online project. This is one of the photography website WordPress templates that provides exactly this style to the customers. It uses a negative space wisely, it also has simple icons, and nests the right amount of information to get your website visitors hooked and stay up to date on your website. Achieving impressive stats ensures you can lure more visitors in, thus increasing the traffic flow by displaying counters. Thanks to Cherry Framework 4, Houston WordPress theme provides vast customization variations. This template has MotoPress Editor integrated, which allows to control the visuals you want included into the design.
Room4Pics – Photo Studio Rental WordPress Theme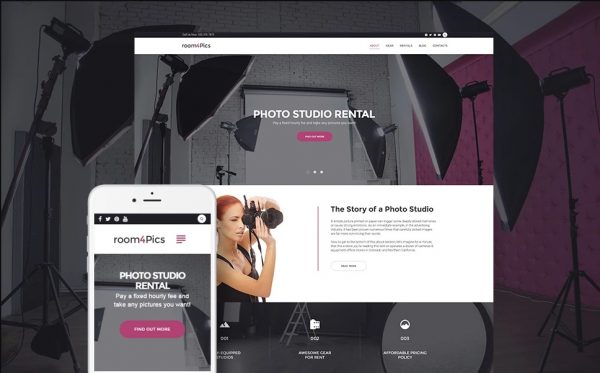 Room4Pics is a professional WordPress theme for photographers supplied with TemplateMonster's drag-and-drop based page builder. Using this great template enables you to build project galleries all thanks to the vast selection of layout and animation variants as well as filter these into categories or tags. This media-centered WordPress template ensures painless customization and allows adjusting template's design in real time. Apart from this,  Room4Pics has a 100% responsive design and a user-friendly interface that renders perfectly well on mobile and desktop devices likewise. And, in case you're lost on how to install or modify certain aspects of your template, feel free to address the rich documentation that comes packed within.
Vignette – Family Photographer & Portfolio WordPress Theme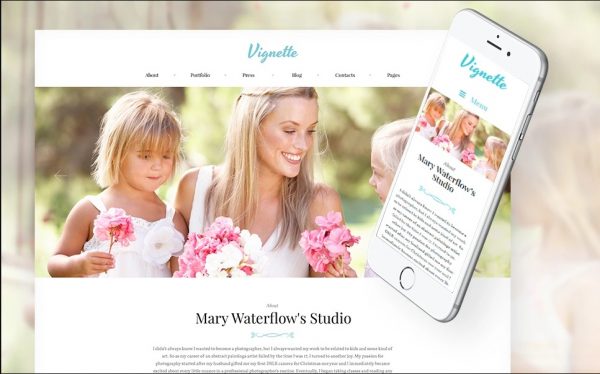 Vingette is a minimalist WordPress theme for building a  breath-taking photographer portfolio. Thanks to its 100% responsive design based on Cherry Framework 5 and Bootstrap 4, this photography WordPress template automatically adjusts to any operating system and screen size. The template allows customizing your website in real time using a rich selection of features and multiple layout options. Also, there's a great choice of content modules with custom widgets and plugins, icons, and a library of fonts and styles for different types of projects. This WordPress theme comes packed with free 24/7 tech support ensuring that your blog is totally bugs and glitches free. Besides, there's a multiple language support for boosting your site on foreign markets.
Adeline – Young Couple Photo Album Photography WordPress Theme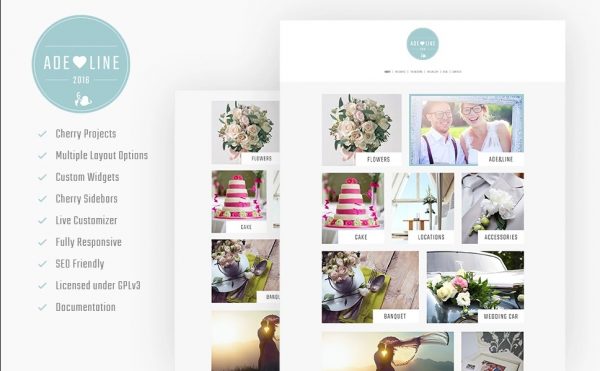 Adeline is a WordPress template perfect for building rich visual portfolios furnished with a plethora of features to showcase the best of your work. No need to worry about things like tech support – it comes packed for free 24/7.  Also, you can create galleries with Adeline's library of layouts, cool animation and visual effects, as well as other advanced options. Just imagine, you can personalize your project, categorize and filter design elements using Cherry Framework. It's always possible to hide the widgets you don't need to create a minimalist, clutter-free interface. What's more, you get to enjoy top-notch SEO and a stable backend for website's administration.
Travelog – Travel Photo Blog WordPress Theme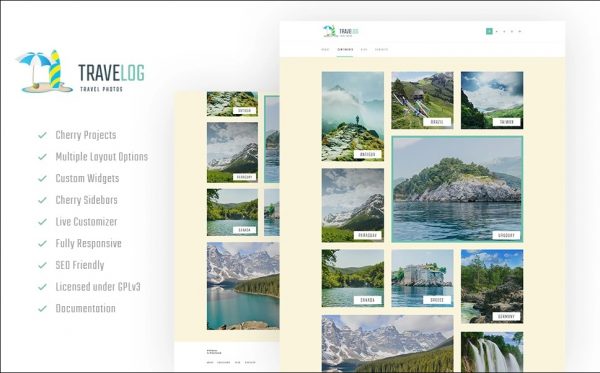 Travelog is cool WordPress Theme designed to build travel blogs and share your wanderlust with the world. It's just the thing for those treating the world as their playground. Supplied with Cherry Framework, this professional looking WordPress theme allows you to customize photo galleries the way you wish to with handy functionality. Visual professionals will surely appreciate how easy it will be to create galleries and portfolios using a vast array of layouts, options and eye-catching animation. All thanks to a variety of custom widgets, you will be able to link your social network profiles for securing a steady online presence. If you want to explore the landscapes and capture all of the greatest moments of your life with your camera, Travelog WordPress Theme may be the best design option for you.
Ida – Model Photo Portfolio WordPress Theme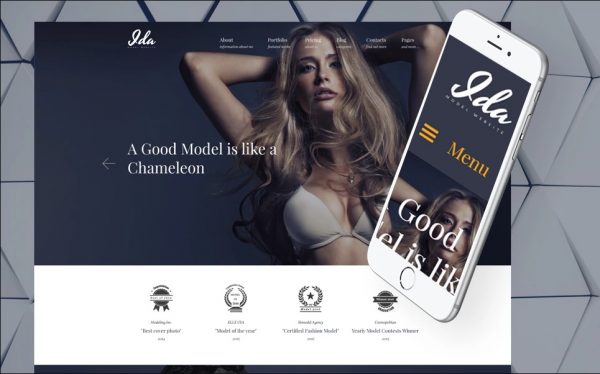 Ida is a versatile and eye-catching item. This model photo portfolio WordPress theme can be used for all kinds of online photo portfolios, galleries and blogs. Owing to Bootstrap 4 and Cherry Framework 5, the theme gives a cool and modern vibe. Besides, Ida is extremely easy to use and customize. Thanks to multiple layout options and animation to select from, building a gallery of your own won't be a tedious business at all. No matter if you have zero web design experience, this great WordPress theme will allow building a professional looking site. Equipped with great SEO, this theme will give your project the marketing boost you're expecting. Live Customizer will let you  personalize your site or blog in realtime mode.
Mezmerize – Fashion Brands Lookbook WordPress Theme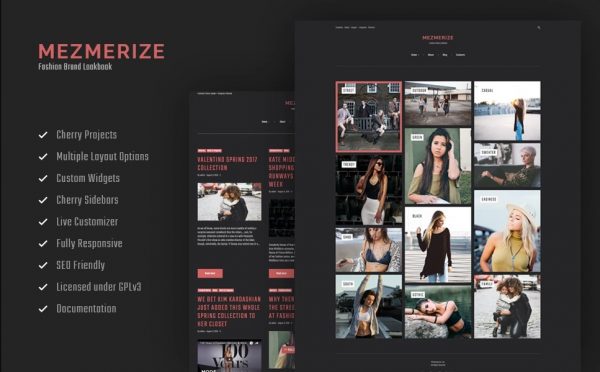 Mezmerize is a fashion brands lookbook WordPress theme for accomplished fashion photographers. It's just the thing for those who need to build an exquisite web portfolio. Thanks to Cherry Framework you'll be able to create professional looking galleries that put style and customization as a top priority. In spite of being a minimalist WordPress theme, Mezmerize is the right one for different kinds of photos. The layout you choose to build your  gallery won't matter, since you are will be able to highlight your photo work the best way possible. Feel free to include Cherry sidebars to make the initial website design more versatile and easy on the eyes. The template offers a top-notch quality and 100% responsive design. Also, lifetime 24/7 tech support comes absolutely for free, so you don't have to worry about any technical issues or problems. Hurry up and get a test-drive of this cool theme by hitting the 'Live Demo' button!
Mevis – Model Personal Page Photography WordPress Theme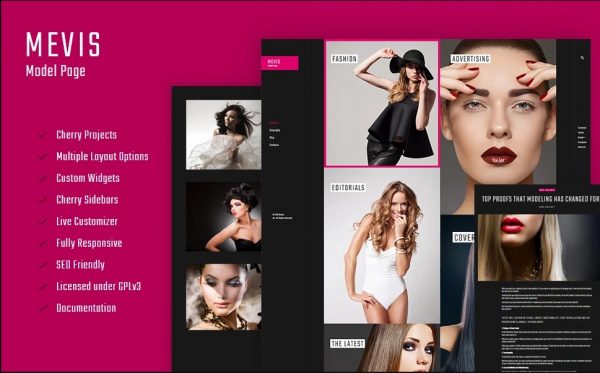 Mevis is a WordPress theme made for creating fashion photography galleries and beauty lookbooks. Also, it's a great skin for beauty-related eCommerce sites. The theme has an unconventional structure and features huge thumbnails of HD images optimized for faster loading. Mevis provides a plethora of great features allowing to attract all kinds of traffic and conversions. Geared with the Cherry Projects plugin, this template allows you to create your own galleries and layouts using custom widgets. Using a rich library of styles and typography, you can highlight the best photos you put on display. Besides, there's a free 24/7 tech support that comes packed with every template. Don't worry about sorting out any technical issues, just address our certified assistance!
Creative WordPress Theme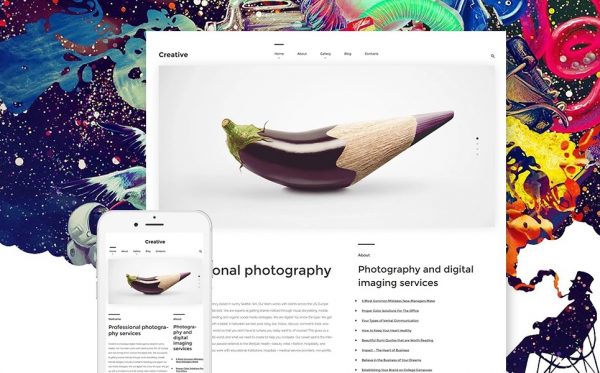 Creative is a WordPress theme for photography that puts your creativity above anything else. Once the internet users see your professionalism and love for photography, your online portfolio based on WordPress CMS, will get a serious boost on the web. No surprise that 'Creative' is a cool WordPress template for both professional and amateur photographers who love the art and all its nuances. Thanks to MotoPress Editor, this theme can be modified through a drag and drop editor in real time. Besides, 'Creative' has a free 24/7 tech support for a lifetime which ensures proper functioning of site. Overall, this template is a perfect place to start for noobs with little knowledge in web design. In case you are searching for photo contest WordPress themes, you may as well pay attention to 'Creative'!
Fashion and photography just can't do without visually rich online portfolios! This is one of the most important stages for making a name for a photographer. Since social media integration is a crucial way of building online presence as a pro photographer, it's very important to have a personal social profile online. Publishing your art and photography on the web is the easiest way to establish your personal brand.
Very few photographers realize how important are WordPress photography themes they use for their   photography blogs and websites. And they really are! To draw more visitors in and drive more traffic you can't do without a solid theme! It doesn't matter how professional and eye-catching your photos are, they won't be able to  make an impact without a great theme. This why you just have to check out the selection of WordPress photography website themes.
Take a closer look at these templates and choose the best items for your online project! Don't forget to share your opinions in the comments below!