"Responsive web design" – a term you surely came across already several times while researching on how to create your own website. Doing so by using our templates is as easy as taking a walk in the park, however, it never hurts to fully understand the basic features of a website. Responsive web design (RWD) is a basic fundament that your new internet appearance stands on. Here are five out of many facts which underline the importance of RWD.
Fact 1: Go mobile or go home!
This might sound a bit harsh, but it's nothing less than reality. According to market researchers, the number of users accessing the WWW via smartphone or tablet exceeded those of using a desktop already in the year 2014. And that was just the turning point! If you browse through the website "Hootsuite – we are social", you'll stumble across truly impressive numbers! Just take a short look at the graphic below, and you will understand why every new website should be created using responsive web design.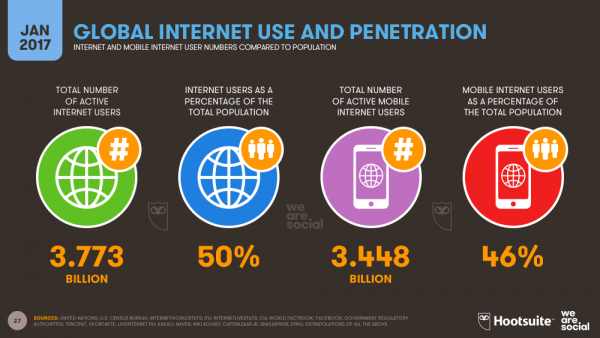 Source : https://wearesocial.com/special-reports/digital-in-2017-global-overview
Fact 2: Google loves RWD!
You can have the coolest website in the WWW which promotes THE idea of the century and still, you stumble on your highway to stardom. Because if no one finds it, the very best website is not much use. The almighty search engine "Google" is your key to success. Your web page needs to gain traffic and to do so it needs to be easily found. Responsive web design plays a major role in achieving a good ranking on Google & Co. Google officially announced on April 2015 that mobile-friendly websites will automatically benefit from a higher rating compared to the ones, which are not mobile-ready. Google also values fast loading times. RWD reduces the page load time drastically, as the browser does not need to check for a mobile-friendly version of your website first. And finally: Google checks the bounce rates of your website. If mobile users leave your page already after a few seconds because it is not mobile-ready, Google will downgrade your site in a heartbeat!
Fact 3: RWD will boost your business!
If you are planning to create your own internet based business, there is no way around responsive web design. Take a high-class escort service for example. Gentlemen who want to enjoy a classy date with one of these stunning models will most probably book this service via their mobile device. Now imagine if the website only functions on a desktop. It's like looking at a centre-fold through a postcard frame. Users will not be able to navigate through all the different options and only see fragments of the lady portfolios. It will not take longer than a few seconds before they log off the page and switch to a competitor, who offers a perfect "on the go access"!
And here is a number which clearly shows how RWD effects income: 188 %! That is how much sales increase the company "WebUndies" realised, after remodelling their internet appearance with responsive web design. In short: If you do not build your website with RDW, you will generate only a fragment of the income you could actually make!
Fact 4: Reduce your costs with responsive web design
Making money is great! Reducing costs is not bad either! If you create your website only for stationary devices, like desktops and laptops, you would need to build a separate site which would meet the mobile demands. And although building your new CSS website with "Template perfect" is easy, it will consume both time and other resources. Thus, designing your website with RWD – like our Premium Website Templates – will reduce both costs and time for developing. With a responsive website, you only need to maintain one single internet appearance which is optimised for all end devices out there. Our tip: Invest a few bucks for a mobile-ready website template and save time and money in the future!
Fact 5: RWD makes your users happy!
And that's the main point of any website! Right? Because if people enjoy browsing through your page – no matter if on the go or at home on their desktop – it is much more likely that they'll buy things, ask for your service, or recommend your page to other users. Take yourself as an example: If you find a website that is informative, tells a story and is easy to navigate, you'll enjoy every minute on this page. And you'll most probably come back when you need the services, information or products featured on this particular website.