As you may already know, the fastest way to design and build an eCommerce site is to start with a solid platform and theme. But many eCommerce site owners want something more flexible than standard eCommerce themes that limit how you can build and design your site. The solution lies in going with multi-purpose themes. These themes are very flexible and allow you to integrate eCommerce elements to your site or simply build a normal eCommerce site. Here's a list of some of the best ones in the market.
1. Shopkeeper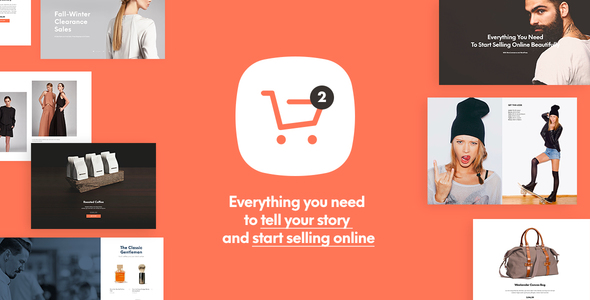 Shopkeeper is a beautiful multi-purpose eCommerce theme. The theme focuses on a clean and simple design. With this theme, you can go with large sliding hero images, a classic eCommerce layout, multiple portfolio style layouts and a featured products design for your main page. It provides multiple ways for you to set up your main landing page.
The product pages are optimized very well. Shopkeeper offers four different layouts and additional setups for different types of products. You can set up rotating product images and allow the mouseover to zoom in instantly. The pages are designed to help your product pages convert which is something that many themes fall flat on.
There are layouts for category pages, product demos, blog and other types of pages which means you get a lot of flexibility with this theme. Shopkeeper is integrated with the WooCommerce plugin. It's a fully responsive design and is updated on a regular basis. This is a definitely solid theme that you should look into.
2. Merchandiser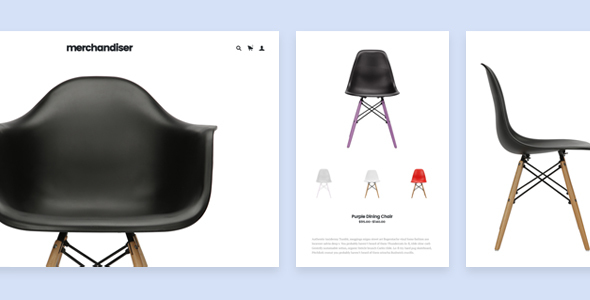 Merchandiser is another great multi-purpose eCommerce theme. Like Shopkeeper, the theme is focused on a clean and simple design. What makes it different are the small features and the sleeker look of the design. There are nine different home page layouts you can choose from and secondary pages like the about us, contact and FAQ pages.
One of the coolest features of Merchandiser is the shop filter menu. With this tool, customers can filter items by price simply by adjusting the slide bar. You can also build clean product category menus and custom filter menus to help your customers shop based on their criteria.
The grid layouts for the product listings are clean and are easily customizable. The extra elements that the designers have added are really helpful. You can use them to design FAQ pages, banners, category tabs, image galleries, and more. Merchandiser works with WooCommerce and is fully responsive. It's a great alternative to Shopkeeper.
3. The Gem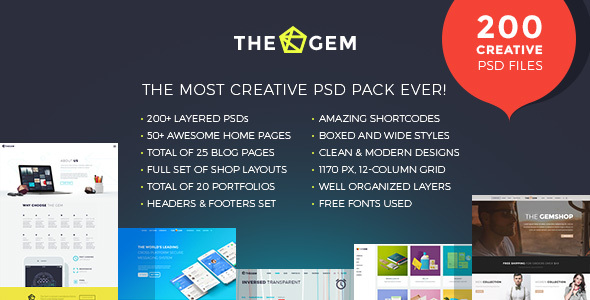 If you're looking for a more flexible theme in terms of the design, The Gem may be the theme for you. There are dozens of different creative concepts that you can use from photography, software, lifestyle eCommerce sites, fitness, medical, technology, agency to restaurant designs.
The Gem features over 50 different home pages, 25 different blog page layouts, over 20 portfolio layouts and many different types of header/footer designs. If you're looking to create a unique site, The Gem gives you the means to do so. You won't ever have to worry about your site looking similar to a site using the same theme.
The amount of options for this theme is staggering. You can tell the designers put a lot of thought and effort into building this theme. Everything from the web elements, product pages, layouts and templates are designed very well. The Gem can be integrated with WooCommerce and is fully responsive. It's a great multi-purpose theme that over-delivers.
4. Atelier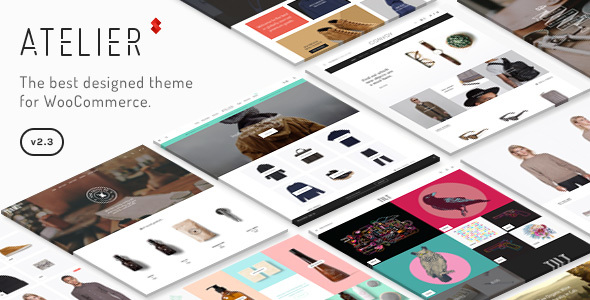 Atelier is a multi-purpose eCommerce theme that has an elegant and modern design. Like all the other top eCommerce themes, simplicity is emphasized over fancy designs. Atelier features 10 different home page layouts, 16 different shopping layouts, 12 blog layouts and 7 different product page layouts.
The theme offers great templates for general pages like the about us, contact us, FAQ and location pages. Like other themes it offers different portfolio layouts from the standard multi column layouts to more complex masonry layouts. The theme also offers a parallax design features that works better than the other themes mentioned previously.
Like other high quality themes, there are many elements that you can build through the theme. Atelier seems to offer more element options than Shopkeeper and Merchandiser. The theme is responsive and works with WooCommerce. The theme is also updated regularly due to its popularity. This is a great theme but there aren't huge differences between this theme the first two on the list. It's mostly a matter which designs and layouts you prefer.
Multi-purpose themes are ideal for site owners that need and want flexibility. For example, a site owner selling software with an integrated eCommerce layout can promote other products like reseller hosting on his blog. This allows for site owners to monetize their site in different ways. They can promote their reseller hosting and sell ad space on the blog module service without confusing shoppers. The bottom line is that you won't go wrong choosing any of these themes.