When you think about free design and graphic resources, you often remember the old days of the internet when you had to traverse the entire web to find them and use them in your projects. In most cases you felt disappointed from what you've found for the reason that they don't meet your demands, and it is often the case you say to yourself "if only I had made the right choices…".
Don't go that way! I've already made a good list of all the worthy design resources you can get your hands on for free.
Behance
These days it is hard to find a web designer who hasn't heard about Behance. It has a large online community and offers a great platform where people can share the portfolio of products they have built to attract the attention of prospective clients. Having a huge pool of followers, Behance is an excellent source of knowledge that allows you to get in touch with prominent designers who are always willing to share the resources and tools they are using in their work.

Dribbble
The popularity and usefulness of Dribbble when free web design resources are concerned is without a question. It has some of the best freebies on the web and helps new aspiring web designers and creative professionals to share their work with the rest of the world and demonstrate their creativity. According to their own words, they are "the single most important social network for anyone who cares about design".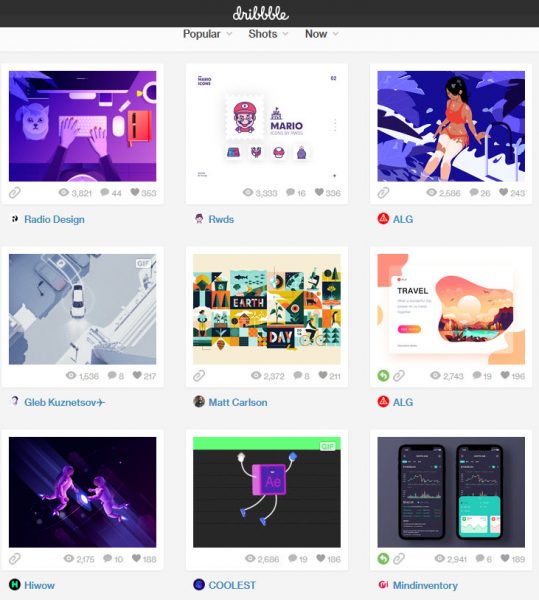 DB Freebies
Do you want a platform that serves the needs of all those who look for freebies from both Dribbble and Behance? DB Freebies is here to help you. It offers web design and graphic resources stacked together in a daily updated collection. Whether you are after Photoshop PSD mockups, EPS vectors for Illustrator or simply fonts, you can filter through the categories to find the material you're after.

DeviantArt
Being one of the biggest art-related galleries on the Internet, DeviantArt is the place to go for those in search for references, vector graphics, useful user interface design resources and in general freebies.
The art and designs on the site are nicely grouped in categories to best suit your search preferences.
Iconfinder
As you have probably guessed correctly from its name, the site offers the means to locate the best icons you need for your design projects. Although not all resources offered on Iconfinder are for free, you can find freebies there as well. The simple layout of the website is easy to work with and has a user friendly design.
FlatIcon
The name itself suggests that the site is the go to place for locating flat icons. Having more than 800 000 vector graphics, they are the largest known free vector icons database as well. The free FontIcon plugin is also available for you, should you also have Illustrator, Adobe Photoshop or After Effects installed. It grants you direct access to all the available icon resources on FlatIcon.
Brands of the World
If you already have an established business and you are after the highest quality high-resolution logos and vectors, Brands of the World is the best place for you. They offer all kinds of graphic-related resources as well as the possibility to examine the portfolios of the best designers and brands on the market.
Having access to the Brands of the World means you won't need to wait for your client to provide you with resources for a project.
Freepik
Created to aid you in the search for vectors, logos, PSD files and illustrations to be used in your design, Freepik is one of the best places on the web that does that. Free vector graphics are added there each day, and the site itself offers a lot of high-quality materials you can use directly or after reediting them for your personal needs. It is definitely one of the best places to go to if you are just starting your design career.
FreeVectors
The fun little community for free vector lovers, FreeVectors, offers vector graphics you can use either for your personal needs or your commercial purposes. In the site's header you can find a large search bar that allows you to look for the graphics you need. Each one of them comes with a helpful description with additional info on the item of your interest as well as a free download button at the bottom.
CSS Author
Last but not least comes CSS Author – one of the prominent providers of graphic and web design freebies. Apart from all the resources it offers, the site comes with a blog with helpful subject concerning not only the resources they provide but also programming and content management systems with WordPress and Drupal.
The free design resources are an essential part of your designs. Whenever you lack inspiration for your own designs or you look for free resources to use in existing or future projects, it is a good idea to examine the best places that offer them.