Search engine optimization is always a priority for every business website. When it comes to local business who want to get a place in the local business listing by search engines, local SEO plays an important role.
In order to take advantage of local SEO optimization, you must leverage the use of Google+ local. Creating Google+ local profile and optimizing it is very vital for local businesses. This will help you to increase your reachability to over 97 percent of your customers who tend to search local businesses online.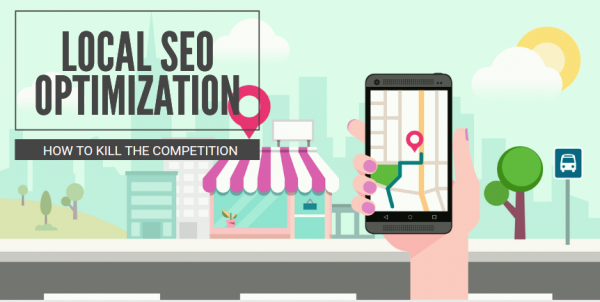 It will also help you to get blend in with the Google results. These are generally organic results which pop up as the place or the keyword matches the criteria.
In this post I will give you some tips, that will help you to tackle your local competition. I will give you some techniques that will not only increase your local visibility but also well timed and ranked in the SERPs. Let's get started,
❏   Make Your Google Profile 100 percent.
Whether you believe it or not, it is a fact. Google results always prefer the results with 100 percent profile completion over 50 percent profiles. These profile information provide Google the entire overview of your business, which helps them to list your business accordingly. If you don't have your profile completed, Google will have difficulty in speculating your business's nature which will drive it to remove you from the listing because of incomplete information. So, complete your profile up to 100 percent.
❏      Use Consistent Name; Address and Phone Number (NAP).
It is not just about the social profile, it is about everything. For instance, take an example such as Your business named as ABC electronics in your website. You register it as ABC Pvt Ltd and on social accounts, it is Electronics ABC. Would you call it consistency? Obviously not. Similarly, it goes with phone number and address. You must maintain consistency when it comes to the online presence of your business.
In the case of a phone number, if you're using a toll-free number on the website, then you shouldn't use a different number in the social media account. Maintain the consistency to avoid any type of confusion either from the Google end or the Consumer end. Same applies to the addresses as well. This will definitely give you an advantage over your local rivals.
❏      Make Use of Relevant Categories.
Now, always make sure that you make use of the Google+ local's categories in depth to take advantage of the local search result. The categories you select must be relevant to your business. Irrelevant categories deteriorate your local rankings. So, make sure that you assign right categories to your business profiles.
Now, Google doesn't allow you to select custom categories, so make sure that the categories you choose closely or partially resemble your business. For instance, take an example as your business to be of WordPress development. Then it must be categorized in "Services"; "Web Services" categories like that. This will boost your visibility in the local business searches.
❏      Make use of Legit Customer Reviews.
Legit customer reviews can enhance your ranking in no time. Over 80 percent of potential buyers check previous customer's reviews before making a purchase. So, if you don't want to miss this big opportunity then go ahead and add customer reviews to your website.
It is not just customer look for reviews, it is Google who ranks according to this parameter as well. Your competitor might not be aware of this, you can leverage the use of customer review and kill the competition in no time.
❏      Add a Google Local Map.
Adding Google local map is very beneficial as this will increase the localization of your business website. Google map will guide the Google crawler to look for the right and relevant area wise result which will definitely give your website a quantum leap over your competitors.
❏      Make a proper Local link building strategy.
For a local business, a link building strategy is very reliable when it comes to local visibility. These links will help your website to build an efficient and effective link building campaign that will give your business credibility and authenticity. Which in total, it will give your business high ratings in the search results over your competition.
Wrapping It Up
So, these are some of the tips that will help you to make your local listing effective and strong over your competition. Let's have another look at the pointers I mentioned in this post for the Local SEO Optimization.
Make Your Google Profile 100 percent.
Use Consistent Name; Address and Phone Number (NAP).
Make Use of Relevant Categories.
Make use of Legit Customer Reviews.
Add a Google Local Map.
Make a proper Local link building strategy.
I hope you like my post. If you have any question or thought, leave a comment and I will get back to you in no time. Till then, cheers.
Author Bio:
Lauren McLaren was born and raised in Australia. She is working as blogger and professional Digital Marketer for Digital Muscle- SEO Company Australia. She's hardworking, competent and trustworthy. Her role within the company is to manage team of SEO Experts. In her spare time, sheto read, cook and watch movies.