Emoji icon sets work great for mobile and social websites and apps. People are accustomed to using emojis in everything from social and blog posts to texts and private messages. Installing a well-designed emoji icon set will give your website or app a more personable and branded appearance. Check out these top 15 well designed Emoji icon sets to use on your website or application.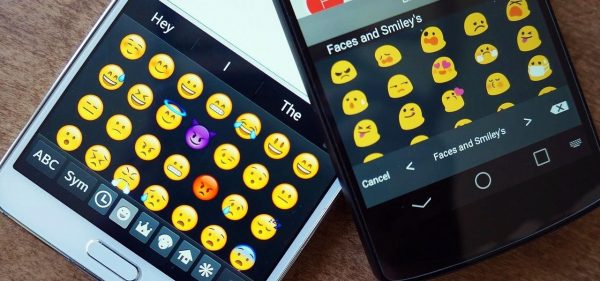 1. EmojiOne 3.0
The third release of the EmojiOne icon set contains over 2500 stunning icons. Included in the lot is a plethora of classic rounded smileys, objects ranging from ice cream to traffic lights, and even Emoji people icons. This set will work great for sites needing a larger database of icons that contain a unifying design style.
Installing this blue emoji icon set is a great way to set your site or app apart from others. All of the icons in this package are blue with a flat design, which gives your project a unique and modern feel. This set is free to use and contains hundreds of minimalist icons for any mobile project.
This unique emoji icon set will make a great addition to your social site or app. Family friendly dinosaurs are found with headphones, pizza and other trendy designs to create a sticker-like emoji base for any site or blog. If you have adequate space on your web hosting plan, you should install this icon set along with several specialty sets to create an icon database large enough for any web future project.
This unique emoji icon set will spruce up your current icon inventory, or serve as your entire set for seasonal and theme based projects. It contains dozens of spooky, Halloween-themed icons containing skeletons and creepy designs. These icons will be a great supplement for any social app or website where users can select emojis during conversation or commentary.
5. Moji
If you're looking for a more simplistic icon set, then Moji is the way to go. Sometimes it's best to use familiar emojis as to not confuse users, and every icon in this set is well defined to meet this purpose. The Moji icons would be best used in a customer service or public relations realm, where they can express distinct meanings without sending mixed messages.
For those needing a little more depth and design to their emoji's, the Glossy Emoji icon package is your top choice. This icon set contains over 50 icons for depicting emotions, questions and bold statements. All of the icons here have a glossy, reflective appearance making them a great choice for mobile apps or messenger systems.
7. Emoji Family
The Emoji Family icon set works great for any artistic or creative website. All of the icons in this well-designed set are hand sketched and look good paired with blogs, personal websites and art-themes projects.
The background of the vector-based icons is transparent, allowing you to install them on any colored theme to create a unified design pattern. Easily switch between colors without the need for Photoshop or other icon editing software by using this well-designed set of web icons.
This icon set was inspired by SocialHub and will work great for any comment or conversation. The icons displayed are 3D looking with shadows and gloss to create depth. This SocialHub icon set contains dozens of artful rounded icons ranging from grins to Spiderman-inspired designs.
10. Devilish Emojis
This icon set is another unique, well-designed group of icons for specialty purposes. Add this to your current icons to transform your web hosting into an inventory of tools and icons that you can rely on for any web project. This icon set includes dozens of emotive, cartoonish devils and related graphics.
Emojis with large faces work well for stickers in messages and along with posts on your site or blog. This set contains over 40 such icons. They depict emotions and expressions ranging from 'happy birthday' to 'disgust.' Download this icon set to get your blog or site started today.
12. WIP Emoji Pack
The WIP emoji pack contains classic-styled icons reminiscent of Saturday morning cartoons. The icons in this package are drawn to express happiness, sadness, and dozens of other emotions through a well-crafted simple design style.
13. Chick Sticker
This icon set contains baby chick icons that work great for Easter, Spring, and Farm related apps or purposes. The Chick Sticker icon set contains over a dozen social-friendly icons to add to your inventory.
14. Food Emoji Icons
The Tiny Food Characters icon package will definitely add value to your collection of usable icons. All of the icons in this set are food based and contain smiling faces. This set will work well with any food-based app or online menu, or in conversational uses where users may want to suggest dinner ideas or chat using expressive fries, pizza, berries and other graphics.
15. Mood Personas
This emoji-based icon set will give your users the opportunity to express emotion and mood. This works great for forums and mobile sites with messengers. The Mood Personas icon set contains over 100 expressive, rounded smileys that can depict any emotion from infatuation to anger or curiosity.
Installing one or more of these icon sets will ensure you have a large variety of icons for use in your mobile web projects. To use these icons on any site or app, simply unzip and upload the files to your web hosting file manager and direct your HTML or site-builder to display them where desired. These 15 well-designed emoji icon sets will allow your users the freedom to express any emotion or mood during conversation, posts or comments.